I only had the privilege of knowing Larry for the last 9 years of his life, and though we didn't spend a lot of time together, I feel the time we spent was quality time as we shared something we both have a passion for riding motorcycles. Over the years we covered many miles and I learned much from him along the way both by listening to his stories and watching him… he was one of those guys that made riding look easy. Many was the time I'd be yankin' and bankin' some twisties and I'd check my rear view (he never liked to lead) and he'd be sitting back there like he was on a Sunday ride and though I couldn't see his face, I just knew he was wearing that big grin he sported most every time I saw him.
He was a thinker… often I would see him rubbing his chin and checking out bikes of others we rode with or even met on the road. He was the one who pointed out to me that our taillights were in the shape of a "T", and that our engines sit slightly to the right in our frames… he also introduced me to BonnevilleAmerica.com. He was the first I knew to shorten the stalks on the rear turn signals and make the "heel/toe" shifter more user friendly and seemed to have a knack for figuring ways of changing things just a bit to suit him. It seems he would modify and customize his machines then when he got them the way he wanted them, he'd sell that one and move on to another project… which probably explains how he came to own some 20 plus motorcycles and countless cars and trucks over the years.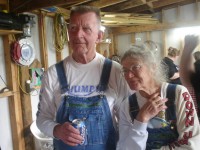 He had a deep love of family and enjoyed meeting and talking with people… he generously shared his knowledge and time and always treated Di and I like family. Often we'd stop by for a visit and he and Kathy made sure we felt welcome in their home as they did anyone who would stop by. He also loved cooking for and helping host the Georgia rallies even to the point of opening his home to travelers from afar.
On that fateful day while riding with his son, though he never wanted to lead, on that day he took the front position and less than two miles later, met his destiny. Did he know what lay in store? How could he? but I truly feel had he known that it was to be the last ride for one of them, he would have gladly taken the fall. At his memorial service, every seat was filled and the back wall lined with people whose lives he had touched and some traveled far to be there for his remembrance, a good testament of character for anyone. He was my friend and I was honored to be counted amongst his.
In the time I knew him, he was a man who lived life on his own terms… he was loved by many and spent his final waking hours doing something he loved. He was indeed a fortunate man.
–Chy Adams
If you would like to contribute a remembrance or a photo to this page, please send Friarjohn a PM via the forums.